Thin Stone Veneer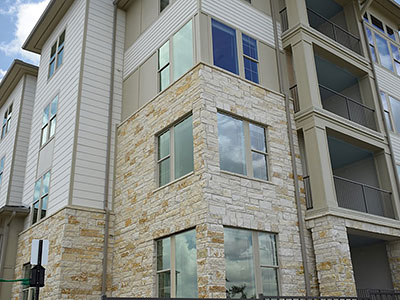 Natural stone has a classic appeal that's difficult to ignore, and many building, designing and landscaping professionals use this material in their projects. However, it isn't always practical or cost-effective to use natural stone in its standard block form. This is where thin stone veneer comes into the picture.

In this manufacturing process dimensional building stone of a certain thickness is produced. Its bulkiness is then cut off which leaves only the face of the stone. The lighter weight adds to its versatility and it can be used in a variety of applications. Since it is lighter, you end up paying lower shipping rates as well.

When you are looking for any thin stone veneer products you need look no further than us at E Stone Supply LLC. We cater to clients in and around Abilene, Amarillo, and Lewisville. Many architects and landscapers from Lockhart, Port Saint Lucie, Ontario, and Athens source stone veneer for their projects, from us. Over the decades, we have also catered to clients in and around El Monte, Tampa, and Aurora.

In fact, clients from various other cities and towns across Texas, Nevada, and California trust only us for all their Texas Stone Veneer needs. We also have a very strong customer base across towns and cities in Florida, Washington, and Miami and our custom stone veneer is much sought-after in Indiana, Colorado, Utah, and Rhode Island as well. Georgia, Tennessee, Oklahoma, and Ohio are some of the other states we service.


Texas Stone Veneer
Our Texas stone veneer is of a very high quality. It starts up with the full thickness of natural building stone. Special diamond-bladed saws are then used to cut off all the layers of both, the corner shapes as well as flat surfaces. This reduces it into a natural thin Texas stone veneer that is resilient, aesthetically appealing and extremely functional.

We use the latest cutting technology in our work which allows us to create 90-degree corner units as well. This means you can buy the cladding and corner pieces you want to create a seamless look on your property. Opting for these units gives you the benefit of using standard natural stone while preserving the overall appearance of stone blocks.


Custom Stone Veneer
Most modern-day property owners are very particular about the types of materials they use in their residential or commercial structures. Many are also be willing to pay a slightly higher price in order to achieve a more unique look on their property. We provide customized stone veneer options that are suitable for various applications such as:


Custom carved and cut fireplace masterpieces
Columns
Lintels
Balustrade systems
Door and window surrounds
Other features

We use the best manufacturing methods in our work and ensure that nothing leaves our manufacturing unit unless it is 100% perfect in workmanship and quality.


Why Opt for Custom Stone Veneer?
There are a number of benefits to using custom stone veneer such as:


Unique look
Available in range of colors, shapes and sizes
Easy to install
Versatile and can be used in various applications
Suitable for interior and exterior settings
Weather resistant
Adds significant value to the structure

If you are looking for excellent quality Texas stone veneer of different types, feel free to contact E Stone Supply LLC at 817-615-4977. You also have the option to send us your requests and queries via this Contact Us form.